Friday Frenzy: Collingwood V Geelong
For returning readers, you're aware of my opinion on Collingwood. For new ones, you're about to get some insight. Grand final day was a momentous occasion. While I watched the grand final from an iconic pub from one of Sydney's glamorous southern beach-side suburbs, I couldn't help but smile when Sir Dominic Sheed slotted the impossible in the latter part of proceedings. What made me happier is the fact he wasn't gettinga look in before Gaff's gaffe and he was able to inflict the most excruciating pain to the Buckley brigade. A real win for the good guys.
Friday is the Pies first chance to re-write the wrongs and put big day behind them. Are they at risk to bottom out with a hangover? Maybe. Do I hope they do? Yes! Is it likely? No not really. Collingwood are essentially a team of midfielders and their front smalls in Jamie Elliott, Jadyn Stephenson and Jordan De Goey will run riot over the seemingly too tall Geelong backs – tortoise and hare stuff but where the hare doesn't have a nap. I didn't think Buckley could do it (and technically he didn't) but the Pies are a force to be reckoned with.
It cannot be underestimated as to how important Zach Tuohy is for Geelong. The Cats will miss this quick line breaker and penetrating kick from their back line. Furthermore the Geelong forward line seems a bit slow to me. Ablett is a genius and one of the best ever – but well… he's slow. Can I say that?
In recent times, Geelong have in fact had the wood over the Pies. We cannot forget they still have the arguably the best midfielder in the game, P. Dangerfield, Selwood, Hawkins, bonafide gun Tim Kelly and a host of other guns. Collingwood are traditionally slow to start the season, Geelong in contrast much better. I think it'll be a lot closer than some commentators predict.
Collingwood are faves @ around $1.65, the line is small and with potential rain in the evening we may be in for a low scoring affair. I think the Pies are a little too strong but the margin won't be a large one. 1-39 Is probably the bet if you like Collingwood.
Holmesy & The Guru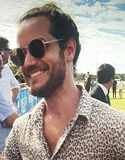 Pete has been involved with horses since his brother introduced him to 'the great game' at the age of 17. Somewhat different to most, he begun life in racing with ownership, and then moved sideways to punting, breeding and finally administration with WAROA. As the only physio student who spent his uni exam weeks primarily punting on the carnivals, his dual-passions soon collided. Using physio gait analysis as his basis, he found his visual memory could recall any horse he saw with good accuracy. This quickly became a self-taught edge for the time poor physio who hated the form guide and loved value. He now describes his occupation as "using two of his five senses; sight and touch". Chicks love it.