AFL is back and so are our previews! Our gurus will share the grouse on the round ahead, shoot from the lip & try to find a few plays. Stay tuned…there is more to come this season!
Round 1
Thank God we're back! We've all waited in anticipation to launch the 2019 season. It's been a long summer… I mean the racing kept us all going, but I took very little out of a long, drawn out Big Bash and an underwhelming Aussie mens side getting comprehensively alpha'd by an Indian side who hadn't won a series here in recent history/ever.
This week got me a little giddy. AFL 360 returned and I completed my AFL Fantasy side which will, as always, finish outside finals and ultimately be a huge waste of my time. Strap in ladies and gents, as always we'll provide you an insight into what we think about the upcoming footy and our scoops deep in the trenches of the AFL world…
Richmond V Carlton
Once again we're watching a traditional round one match up between two huge clubs, however we also see another prime time slot occupied by the hapless Blues… Sort your shit out AFL scheduling team!
Aside from Caddy and to a lesser extent Grigg and Jason Costagna (George), Richmond come in with a very healthy list and the addition of arguably the best contested marking full forward in the game – Lynch. Is he over paid? Feel free to debate that with me…
Carlton on the other hand has once again hit the draft and the GWS scrapheap. Not that they haven't found some quality – top pick Walsh, Setterfield and McGovern are very handy. The new captain will also be doing his freakish best. But no Kreuzer or Docherty in a very young team that hasn't worked out its chemistry spells doom for the opening game of the year.
Carlton last beat Richmond in the elimination final in 2013, since then the Tiges have won their last 7 encounters. I can't see that changing. Dusty and Cotchin are both so dominant one on one that I think we will see the two of them time and again run the ball out quickly into the waiting arms of Riewoldt or Lynch. If we're being honest, it's could be a very long night for the Blues defenders – Blues recruit Nic Newman and will be earning his pennies as he does his best to help stalwart Kade Simpson.
Richmond are resounding faves at $1.16, Blues $alot. Line is 36.5, interestingly the average margin in their last 3 match ups is 31. The other notable one is Tiges 1-39 is about $2.50 – the game bit risky and lots of grey area for me but there is some value if you think the Blues can hang around for a while.
Holmesy & The Guru : The AFL MailBag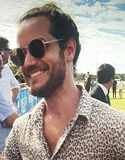 Pete has been involved with horses since his brother introduced him to 'the great game' at the age of 17. Somewhat different to most, he begun life in racing with ownership, and then moved sideways to punting, breeding and finally administration with WAROA. As the only physio student who spent his uni exam weeks primarily punting on the carnivals, his dual-passions soon collided. Using physio gait analysis as his basis, he found his visual memory could recall any horse he saw with good accuracy. This quickly became a self-taught edge for the time poor physio who hated the form guide and loved value. He now describes his occupation as "using two of his five senses; sight and touch". Chicks love it.