Dees V Bombers
Both these sides have had dismal starts to the year. The Melbourne media circus beat on the drum of both of these clubs in the pre-season and quite frankly they had every right to, the way both sides finished 2018. The Dee were smoked last weekend against the Cats and Essendon again put together a disappointing one going down to the Saints. The Bombers contingent were out and about in my news feed this week, most looking for another sport to follow or proclaiming they couldn't wait for Ashes cricket to start… As I drunkenly announced one night that Trent Copeland and James Pattinson should be walk up starts for the English tour, someone correctly reminded me that it is about 5 months away – could be a long year for the Bombers faithful.
Melbourne had a lot of possession last week and could only kick 6 goals with their 72 inside 50 entries… Hoges, where are you? We miss you…
Wikipedia had a recent edit this week; Calamitous – synonyms: disastrous, catastrophic, cataclysmic, devastating, dire, tragic, fatal, ruinous, crippling, awful, dreadful, terrible, woeful, grievous, Essendon's 2019 start.
Max Gawn and Tom Bellchambers will be a good match up. In fact on their day, both midfields are damaging and will tear sides apart. Sheil has more lifting to do, as do Smith and Merrit. Melbourne desperately need to consolidate their inside 50s. Their midfield has gotten the ball in there and the chances are being wasted. May exits the Dees side through injury. Zac Clarke's been brought in to help Tom Bellchambers, and the Bombers may give him more forward minutes.
Holmesy's Last Word
"Knowing the quality of both of these sides, it's hard to write them off at 0-2 starts. Both sides are reeling after losses and will sense they have a sniff to get a win on the board this week. Becuase of this I think it'll be a closely fought battle… provided Essendon actually turn up. If not, Dees will win comfortably. One of my Bomber mates predicted Bombers 40+… what a dickhead. Dees 1-39"
Guru's Last Word
"17 v 18 on a Friday night! Can't help but hope that Gil McLachlan is really pissed off about this…well done Dees and Dons…because it's the only possible motivation that can explain their absolutely disgusting opening games. Particularly Essendon. The Benny Hillesque performance against St Kilda just shows what happens when a team's confidence is broken. To be fair it was a 25 minute window of slapstick that ruined Essendon. They were the better team for the rest of the game…but this is against St Kilda – a team most punters would have had in the bottom 4. Melbourne did capitulate against an in-form Cats but I'd be less worried if I was Dees fan. Don't starting smashing the Chardonnay just yet because the stats show they are really just extremely wasteful in the forward 50. If it's getting in there that often then the forwards are bound to put it together at some point. And I believe that point will be this friday evening. Demons by 6 goals"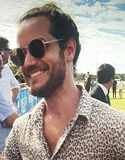 Pete has been involved with horses since his brother introduced him to 'the great game' at the age of 17. Somewhat different to most, he begun life in racing with ownership, and then moved sideways to punting, breeding and finally administration with WAROA. As the only physio student who spent his uni exam weeks primarily punting on the carnivals, his dual-passions soon collided. Using physio gait analysis as his basis, he found his visual memory could recall any horse he saw with good accuracy. This quickly became a self-taught edge for the time poor physio who hated the form guide and loved value. He now describes his occupation as "using two of his five senses; sight and touch". Chicks love it.